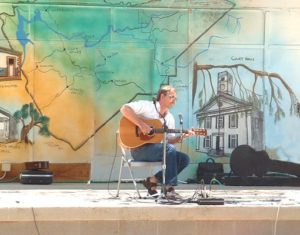 Rob Kaspar, Solo Guitar,  Recordings of Live Performances.

My one and only music lesson was years ago when I was living near Santa Barbara.  My girlfriend, an otherwise timid type, snuk up behind me and broke a guitar over my head. (actually it glanced off my head and hit my shoulder).   I remember  the vague sense that something was accelerating towards my skull from behind and I can still hear that sound  – a tight but  resonant base with just the right amount of wood splinters in the (my) upper registers.  I don't know what it was that I did … (but I'm certain I deserved it.)

And yes, I know the vocals sound much better if you lower your standards.  I use them mostly for crowd control or when I'm feeling petulant.
EMBRYONIC JOURNEY (KAUKONEN)
LITTLE MARTHA (ALLMAN)
LIVING IN THE COUNTRY (SEEGER)
PASTURES OF PLENTY (GUTHRIE)
READY, FIRE, AIM! (KASPAR)
LAST STEAM ENGINE TRAIN (KOTTKE)
MARCHING TO VALHALLA (KASPAR)
ON BROADWAY (LIEBER AND STOELLER)
CANADIAN RAILROAD TRILOGY (LIGHTFOOT)